Responsive Mobile Development for Magento
It is very important that your website should be accessible through all modern mobile platforms with different screen sizes.

The number of visitors viewing websites through mobile devices is growing and the latest data shows that mobile digital media time is now significantly higher at 51% compared to desktop (which is 42%).

Google will not rank your website high for mobile devices, if it is not mobile friendly. As a result the businesses lost Google search traffic (or get more traffic, if the website is mobile friendly).
For more information check the Google 'Mobilegeddon' WiKi article.
Our approach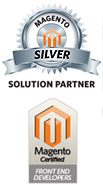 We are official Magento silver partners and certified Magento frontend developers, and we pay big attention not only on visual part of the design and SEO friendly markup, before the design creation we will analyze your current website, websites of your possible competitors to better understand your market and your future customers. Gathered information will help us to create user-friendly design for your website auditory.
Besides the design, SEO and usability, we also keep an eye on theme design performance (pages generation time & time-to-load), implementing performance optimization features which will make your store fast for the customers browsers and Google crawlers.
We divide Magento responsive & Magento mobile theme projects into the following stages:

Research
1. Research and
planning
2. Wire-framing
3. User-friendly design concept creation

Implementation
4. User-friendly design for all main pages
5. Design integration, development and testing
6. Theme performance & SEO optimization

Publication
7. Project approval
8. Project publication on live server
9. Final testing
Magento responsive themes and mobile themes examples
Our certified Magento front-end developers and designers are able to create any mobile solution for your business, including mobile themes, responsive Magento design based on ready-made themes or build completely unique responsive themes from scratch.
Mobile compatibility strategies for Magento
Choose the best solution for your business or contact us for free consultation if you are ready to start mobile friendly project.

Mobile theme for existing Magento store
It is the fastest way to make your store mobile compatible. Positive sides of the separate mobile theme solution are:
Short time-frames for solution implementation
Affordable solution
The solution do not touch your website desktop version, your website will work as is without any interruptions
The separate mobile theme is the best choice if you have fresh desktop design, you need mobile compatibility in short terms or you don't have budget for complex solutions, like responsive design.
However, please note that responsive design is more flexible than mobile theme, because it also provides a more convenient view for intermediate-size devices like tablets.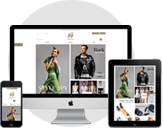 Ready-made responsive Magento theme
It is good and balanced solution, something between unique design and template solution. We highly recommend to include professional design work to such kind of projects to achieve the best result. The choosed template will be adjusted for your brand and improved with unique features. Positive sides of the separate mobile theme solution are:
Short time-frames for solution implementation (in compare with unique solution)
Affordable solution
The solution includes professional design work, so the final website will match your brand
This solution is good and balanced, if you looking for good responsive design in short terms. The solution will be adjusted for your brand by our designers and developers for better result.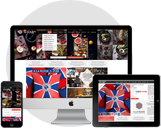 Unique responsive Magento theme
This solution is good if you want to implement the completely unique design and user interface for your store. Be ready that this solution will be time-consuming and quite expensive. The price depend on amount of design and development work, involved into new responsive theme development.
This solution is good for big projects which will step away from the crowd and implement completely unique brand identity, unique features designed by professional UI/UX designers.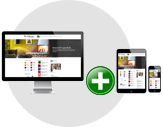 Convert your existing Magento theme design to responsive
Do you have existing Magento store and looking to convert it to responsive?
We can help you convert your existing Magento theme design to responsive, so your store will be compatible with all modern mobile devices and tablets with different screen size and resolution.
Note: We need to review your existing Magento store code and backend panel to provide you the estimate.
Ready to mobilize your Magento store?
If you are ready to start a mobile development project, just drop us a line and we will provide you a free quote or free consultation.
Contact us
Meet your development
Team Today
Share your development concept with us and we will provide you with a quick no-cost quotation or Magento consultation within 24 hours.