Magento Upgrade
The Magento upgrade is an important step in the life cycle of your on-line store.
We offer high-quality affordable Magento upgrade services for Magento Commerce and Magento Open Source editions.
Our certified Magento developers have implemented many successful upgrades (see our upgrade showcase below). Our experience helped us build an excellent upgrade process that guarantees your store will be upgraded, tested, and published.
We know that professional store publication, post-launch support, and upgrade warranty are all very important - not only for the final result, but also for overall development & upgrade process quality.
Why do you need a professional upgrade service?
Magento is a really great system. It's modular and core upgrades are semi-automatic. However each Magento store is different. Each store has different 3rd party modules, customizations, custom design themes, and so on.
That's why it's highly recommended that your upgrade be under the control of responsible certified Magento developer, with real experience in many Magento upgrade projects.
The most important stage of the upgrade is quality testing. This helps avoid many issues in the future: it's always better to investigate and fix any such issues at an early stage, so problems are not given the chance to appear on the live store.

Why upgrade Magento?
Security patches
Bug fixes, stability
Better speed, code optimization
New features and improvements.
See the full list of all improvements in the official
release notes
.

What is included into our turnkey upgrade service?
Our turnkey upgrade service includes the following:
6-month development warranty for upgrade service
Creation of the development copy
Magento code and modules audit
Magento core upgrade and issues fixing
Magento database upgrade and issues fixing
Magento theme design upgrade and issues fixing
3rd party modules upgrade
Testing of the upgraded store
Publication of the store and database synchronization
Post-launch support

Upgrade warranty
We provide our clients with a 6 month warranty for upgrade projects because we are that confident in the quality of our work. The warranty will cover any upgrade-related issues; it includes the free application of urgent Magento security patches.
Our upgrade warranty includes:
Free application of urgent security patches and fixes released by Magento
(within the same Magento branch).
Free fixes of upgrade-related issues.
Our approach
The primary concerns in our turnkey upgrade process are quality, safeness, and minimal downtime.
Before proceeding with the real upgrade, we work on a development server. We run a trial upgrade to check how your store will behave.
Here is the typical Magento upgrade project plan we follow:

1 - Store copying:
We will copy your store to our development server, so your live store will work safely.
2 - The upgrade on the development server, solving issues:
We perform a trial upgrade on our development server; transferring the store database, Magento core, design theme and modules to the new version format.
We test everything on our development server; we investigate and fix all issues.
We provide you with web access to the upgraded store, so you will be able to see the upgraded version before publication.
After you confirmation, we schedule the best time for the upgrade publication, choose the publication strategy, make a backup of the old store, check server settings and disc space, and prepare everything for publication.
3 - Data synchronization:
During publication, we perform database synchronization, so that you will get the latest Magento version with all the latest orders, customers, and products.
4 - Store publication:
And finally, we test the published store just to make sure that the store upgrade is perfectly complete.
We guarantee 100% quality
We pay great attention to quality assurance testing of main development stages and the publication stage. The final result should be perfect and worry-free.
Our process is documented and constantly improved. We have inner testing checklists, knowledge base and QA engineers who double check the main store features after each development stage.
Upgrade showcases
We perform successful Magento upgrades since 2009. Please check some of our upgrade showcases below.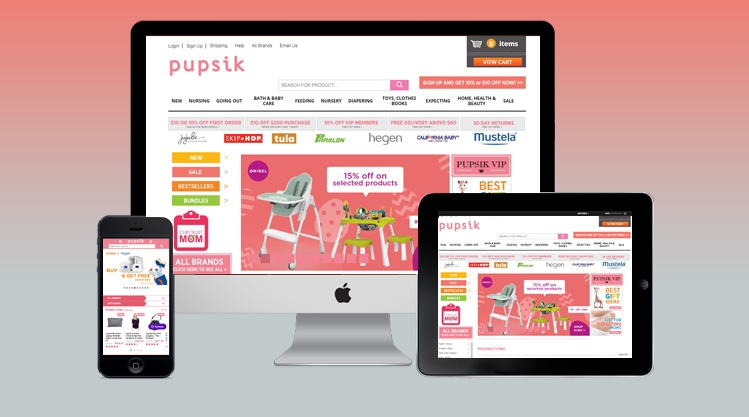 Ready for upgrade?
If you are a new client and ready to start the project, just drop us a line and we will provide you a free quote or free consultation. We guarantee an answer the same day.
Pricing
Our development hour price is 40 USD, its Includes developers, project managers and QA work.
We quote each upgrade project separately. Our price for each Magento upgrade service depends on a number of factors including 3rd party modules quality, core/hacks customizations, platform edition and version.
For returning customers, we offer a 20% discount on all further upgrades. That's because we already know the code and usually spend less time on such upgrades.
We accept

Contact us
Meet your development
Team Today
Share your development concept with us and we will provide you with a quick no-cost quotation or Magento consultation within 24 hours.