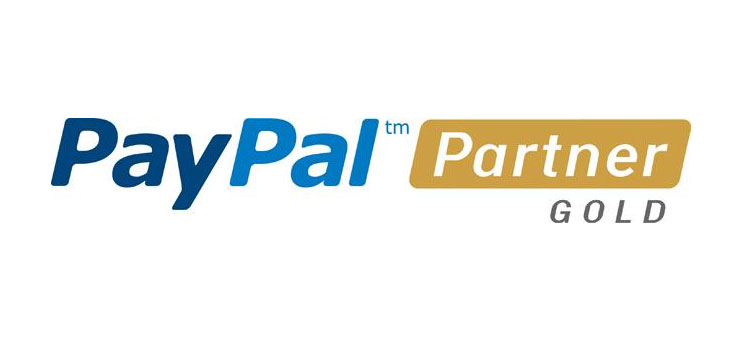 In the beginning of 2014 our company has got the status of the golden partner of PayPal..
Magento, PayPal and eBay is the united group of companies which will help you to make your online business successful and profitable.
Technological innovations of these three companies are implemented in the advanced e-commerce systems Magento Community and Magento Enterprise.
Partnership with PayPal is the additional guarantee for our customers who look for the quality, reliable, cost-beneficial and certified services powered by Magento. From our side we ensure the full compatibility of our company products and services with the high technological PayPal standards.
About PayPal

PayPal is the first-rate operator of the electronic funds. It allows its clients to pay the bills and purchases, send and receive the funds transfers.
Currently PayPal counts more than 140 million of the active users in 193 countries and operates with 26 world currencies.
The most important feature of PayPal is the provision of the security assurances both to buyer and the seller.
Company PayPal promotes the global development of the e-commerce domain. Thanks to the PayPal activity it is possible to make payment transactions in the various geographical points and in the various currencies. The company services are available in many world languages.
Russian users of PayPal have got the possibility to receive payments with the withdrawal of funds to the accounts in the American banks since October 2011. Since September 2013 the withdrawal of funds in roubles to the accounts in the Russian banks became available.
About Turnkey Ecommerce

We are the team of the certified Magento developers and the authorized Magento designers specialized in the complex development for the Мagento Community and Magento Enterprise platforms.
Turnkey Ecommerce is the official partner of Magento in the domains of development and design. Our company employs the certified frontend and backend Magento developers and the project managers.
Our specialists have the broad experience in development of the Magento modules and visual themes, complex development for the Magento Community and Enterprise platforms, integration of Magento into the third party systems and services, development of B2B portals, optimization of the high-loaded Magento portals, migration to Magento from other e-commerce systems.
Our team is the organizer of the conference Meet Magento Russia.