"Stachka" is Russian IT conference organized by local IT ecosystem. It is the third-largest IT conference in Russia.
Many big brands such as Skype, Echo, Mail.ru and many others take part in this event.

We were speakers on this conference with a lecture about Magento 2 and X.commerce.
In our lecture we show that Magento/X.commerce are long-term trends with big impact on whole eCommerce industry.

Here we will publish the main points from our lecture and slides that we use.
Please look through our slides to get more information about our lecture.

Main points of our lecture:

- Magento platform overview. Why Magento is so popular?

- Magento ecosystem overview. Some quick facts about Magento partners and eBay investment in Magento.

- What's new in Magento 2? Overview of new features and technologies.

- X.commerce technology overview.  Why X.commerce is a future of eCommerce?

Besides this we also share some facts about Magento market share.

See more details below slideshow.
Magento market share:
Big brands such as Nokia, Samsung, Fred Perry, Tool King and The North Face are among the 100,000 merchants that currently use Magento as their eCommerce platform.
Magento platform market share is 20% and still growing. Many companies and individuals migrate from outdated eCommerce products (such as osCommerce) to Magento.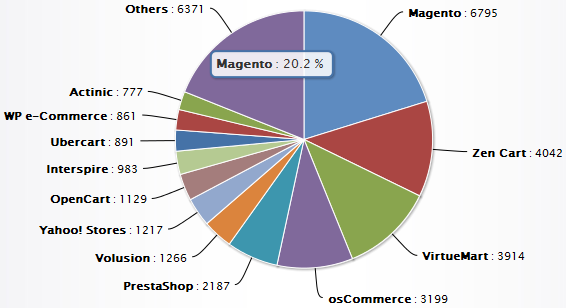 Google Trends:
You can compare Magento popularity with other systems using Google Trends tool. E.g. on the next screenshot we compared Magento VS osCommerce VS ZenCart: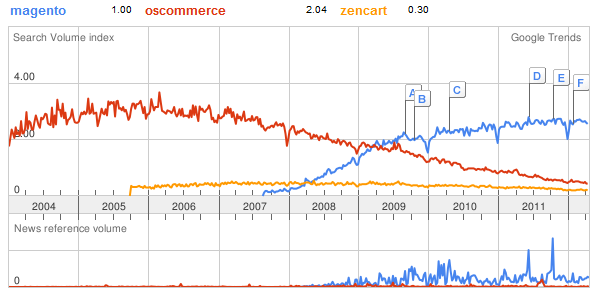 Additional materials:
http://www.google.com/trends/?q=Magento,+osCommerce,+ZenCart&ctab=0&geo=all&date=all&sort=0
http://tomrobertshaw.net/2012/02/feb-2012-ecommerce-survey/
http://blog.aheadworks.com/2012/02/magento-covers-the-quarter-of-the-e-commerce-market/
http://trends.builtwith.com/shop
http://nastachku.ru/