If you read Magento Blog and Magento News from time to time, you definitely noticed the latest August/September update. Magento featured five Magento Enterprise merchants with the ingredients for success and mentioned our client there (check our Magento portfolio).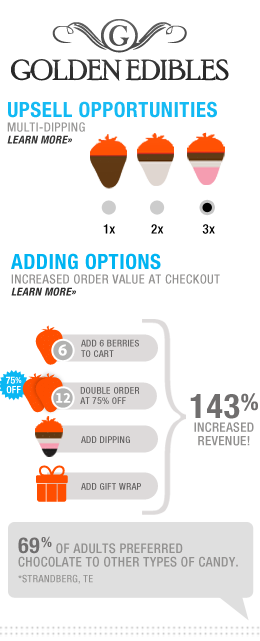 Food and Beverage Merchants Thrive Using Creative Customizations
Merchants selling food and beverage products online are creatively utilizing a variety of Magento Enterprise features to customize and personalize the shopping experience.
Custom products, gift configurations and mobile applications are just a few of the features that are helping merchants drive traffic to their stores, convert browsers to buyers and increase average order value.
Golden Edibles increased revenue by 143% using Magento features. Click here to get the ideas on how to increase sales with Magento.
About Golden Edibles
Golden Edibles website includes several stores under one Magento Enterprise installation: Incredible Berries, Chocolate Covered Company and Indulged.

Golden Edibles Facebook page has over 400,000 likes and counting.
Read Magento Blog for More Information
Magento Blog: Creative Ways To Dramatically Increase Revenue
Magento News: Food and Beverage Merchants Thrive Using Creative Customizations